In a recent interview with the Minnesota Book Awards, bestselling mystery writer Allen Eskens reflected: "Libraries have been at the heart of my success as a writer. I have been invited to speak at libraries throughout the state, and it is such a wonderful way to conn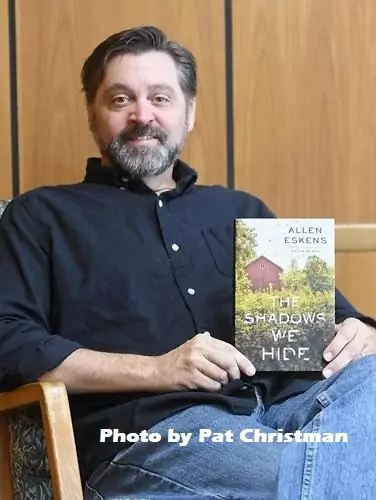 ect with readers and fans."

This was true when Eskens, a practicing attorney moonlighting as a novelist, published his beloved debut The Life We Bury back in 2014. It's no less true today, after the author has established himself as one of Minnesota's most popular mystery writers. In the last year alone, the Barry, Rosebud, and Silver Falchion Award winner has racked up considerable mileage appearing at dozens of libraries all across Minnesota – from Hackensack to Harmony, and from Royalton to Rushford.

MALF is pleased to share that on Saturday, September 30, MALF will partner with Eskens on the somewhat rarer opportunity to address a statewide audience all at once!

That's right: Minnesota's own Allen Eskens will be keynote speaker and emcee for MALF's annual "mini-conference," Saturday Splash. He will talk about fan favorite Nothing More Dangerous, offer a sneak peek of the newest Broady Sandeen thriller Saving Emma (which hits shelves that same month) – and, as a nod to our specialized audience, share thoughts on libraries and Friends from the vantage point of a chart-topping author.


Why do we call this event Saturday Splash (aside from the obvious fact that it's held each September on a Saturday)? Simply put, our itinerary will include a splash of this, and a splash of that! However, as the connective tissue, every program module will celebrate Friends' work or offer learning opportunities to further that work. Highlights will include:

     ●   Keynote Address + Author Q&A (ft. Allen Eskens)
     ●   Evy Nordley Award Finalist Presentations (ft. another special guest!)
     ●   Celebration of 2023's class of Standout Friends

Saturday Splash 2023 will take place on ZOOM from 10:00 a.m. - approx. 11:30 a.m. Attending is FREE, even if you are not a MALF member. However, you must register; please be sure to do so no later than Wednesday, September 27 in order to receive all pre-event information.
Saturday Splash Archive: